Latest News
14/06/21 - Teen Patti – One of the Most Popular Casino Games in India
Gambling is part of the Indian culture. In the streets of India, you can find people gamble for fun and entertainment. Teen Patti is one of the well-loved Indian games that has made its way from the Goan casinos to online casinos.
Through our AACASINO partnerships, we can install your own live dealer studio bespoke to your brand either inside your existing casino or dedicated live dealer studio. In addition, we can provide generic feeds from European studios to suit your target markets and budgets.
The origin of Teen Patti
Teen Patti is a card game that has its origins in the Indian Sub-continent. It has similarities to poker and is also called flash or flush in some areas of the world. This is a three-card game that is played with a deck of 52 cards. It involves both luck and skills.
Understanding the basic of Teen Patti
To begin playing Teen Patti, you need a deck of 52 cards minus the jokers.
To begin playing, two players and a dealer is needed. Two cards are dealt, one for the first player and another for the second player. The players can receive up to three cards.
What makes Teen Patti unique from other card games is that it allows you to play blind or seen. In other words, you have the option to know the value of the cards facing down or the other way around. Wagering is another thing that makes Teen Patti unique from the rest. But, of course, how much you are allowed to wager depends on the number of players.
Rules of Teen Patti have been broken here into different stages of the game.
Dealing: In the beginning, a dealer is chosen by dealing a specified number of cards to each player, and the player with the highest card or hand gets to be the dealer.
The dealer deals the first round of hands, going clockwise around the table, dealing one card at a time, till each player has three cards each. After the first round of the game, the winner of each hand gets to deal the next round.
Ante or boot: This is like the buy-in of Teen patti game. Everybody puts an ante in the pot before starting the game. The betting, then, starts from the player on the left of the dealer.
Blind: There are three scenarios for the first bet in play:
Two forced blinds: The person who starts betting has to place a forced Blind bet of half the amount of a regular bet. A blind bet is placed by a player who hasn't seen their hand of cards. The second player places a big blind (the same amount as that of a bet).
One forced blind: The first player places a forced bet that is half or the same amount of a bet.
Optional blind: The first player has the choice to place a blind bet half or the same amount of a bet. The player can also call instead. The person playing next to a blind deal can play a blind bet matching the amount or of a higher amount than the previous blind bet or they can call or raise.
Rounds of blinds can be limited in a game, i.e. each player cannot place more than two or three blind bets.
Call or raise (chaal): A person who doesn't play a blind bet has to call or raise. A Call generally requires matching the previous bet, but when placed after a blind bet, then a Call's amount is double the Blind bet. A raise is generally double or more of the previous bet. A cap to a Raise is generally placed. Calls and Raises are also called Chaals.
Every bet is a new bet (unlike poker), i.e. if a player places a bet of $4 and next one places a Raise of $8, the person after the Raise will have to place $8 to Call or $16 to raise. (In poker, the third person, if placing a Call, would just place $4 to bring his bet to a total of $8).
A player who has seen their cards and feel that they are strong enough in comparison to what others may have can choose to play a chaal.
Sideshow or backshow: A player, while placing a bet, can request a sideshow or back show from the previous player. In this case, hands of both the cards are compared, and the losing hand is packed or folded, while the other one continues to play. This move helps ensure that your hand isn't the weakest.
Show: If all the players pack or fold, then the last player automatically wins. However, if there are two players left in the game, then one can ask for a show by placing a bet. In the case of a final show, the two hands are compared to choose the winning hand who takes the whole pot.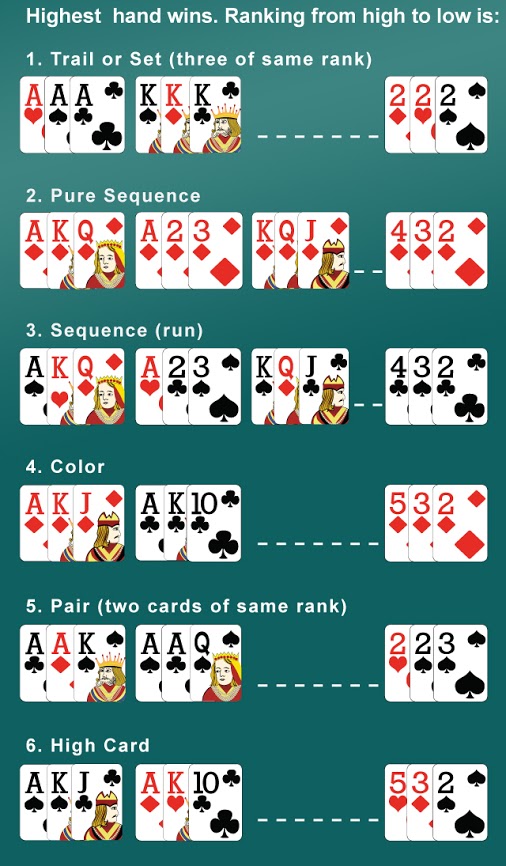 Winning at Teen Patti
Teen Patti is somewhat similar to poker, but there's a little difference. Teen Patti has a house edge of 3.79%, with a Return to Player percentage of 96%. Here's the catch when playing Teen Patti – if you select blind, you can't see the cards face up. Your decision will be based on your gut feeling. It's a game of luck. You'll win if lady luck works on your side. If you load Live teen Patti using your phone or any device of your choice, you will see various hands, and it would be easier to find out which hand is better or favorable.
Conclusion
Teen Patti is without a doubt one of the popular classic Indian casino games. It has been around for many decades, but up until now, it continues to make a mark in the online gambling platform. All online casinos that accept Indian players have Teen Patti because they know that Indians love it. There are various reasons for its popularity, and one of the primary reasons is the descent. Teen Patti is a card game that originated in South Asia.
Contact us for details on a Whitelabel platform or buying your own platform and source code for your live dealer games.